A selling exhibition of 32 paintings. http://www.hebdenbridgetownhall.org.uk/events/exhibition-julie-rose-clark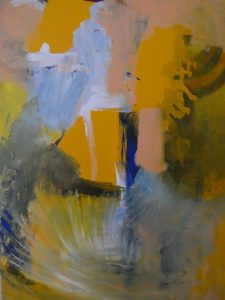 Each time I paint the painting arises from the now. sometimes it's a struggle to paint. sometimes not. i tend to use all of the available colours. I tend to walk away and come back again. I like a painting to look bright. I have no particular intention, the joy is in the revelation. if i am stuck i drink tea or talk to someone. if they paint we talk about their painting, their style. sometimes I look at books but I always come back to the paint, and long brushes; 6 or 7 per painting, each dipped in their own colour. I tend to get paint on myself and my clothes. sometimes it washes off.
Review:
Do check out this free exhibition at Hebden Bridge town hall by Julie Rose Clark. I am passionate about increasing the representation of abstract and conceptual art in the area and this is a fantastic starter for anyone new to this way of thinking about art.
You find yourself drawn to some pieces but not others. You like a piece, but you don't know why. Each abstraction is presented without comment, offering you an opportunity to be taken to places, to situations, memories. See elements of how you see yourself, and more interestingly, how you want to be. There are no rules, only discoveries.
Written by Corinne McCaig